Bizi Boutique: From Mom & Pop Shop to Desirable Luxury Children's Fashion Brand
Branding
Design
Marketing
Photography
THE CHALLENGE:


Successfully Launching a New Children's Clothing Store—In a City Filled to the Brim with Kid's Clothing Boutiques



The Bizi Boutique children's clothing shop was established over three decades ago in Boro Park. This family-run venture quickly became a cherished hub for luxurious and fashionable children's clothing, endearing itself to three generations of local families.
In recent years, Brooklyn natives have moved en masse to the bustling hub of Lakewood — and Bizi's leadership quickly realized the time had come to establish a presence there. However, Bizi's owner, Chani Braun, knew that this task would entail more than simply opening up shop. Chani aimed to capitalize on Bizi's well-established reputation and introduce it to Lakewood, rebranding the business in a way that resonated with the specific tastes and preferences of Lakewood-based shoppers.
Considering the highly saturated children's clothing market in Lakewood, however, this would be no easy feat. How could Bizi stake its claim in this overcrowded, competitive landscape?
To address this, Bizi reached out to The Anelis Group to revamp its brand identity and design captivating campaigns that would not only intrigue parents across Lakewood but also get them through the store's door.
THE INSIGHT:


Bizi Won't Stand Out by Competing on Style Alone



Bizi's collection — featuring exquisite ruffled dresses, knitted rompers, and bespoke suits — was undeniably impressive. However, Anelis's team recognized that relying purely on visual charm wouldn't cut it. The abundance of adorable children's boutiques in Lakewood meant that Bizi needed another differentiator to set it apart.
Lakewood's shoppers—many of whom were already loyal customers at other kid's boutiques—needed to know why Bizi was going to be entirely unlike the rest.
THE SOLUTION:


Reinventing Bizi as a Luxurious Lifestyle Brand and Wardrobe Stylist
The strategy was to differentiate Bizi by presenting it not merely as a boutique, but as a purveyor of luxurious wardrobe styling for stylish Lakewood families.
To accomplish this, the first task was to refresh the brand's aesthetic. The Bizi logo underwent a transformation: the previous design — featuring carriages and two B's in a standard font — was replaced by a stylish "B" emblem mirroring a butterfly. Beneath the butterfly symbol, "Bizi" was scripted in an elegant cursive font, and the entire logo adopted a serene lavender hue. The revamped logo captured the essence of sophistication, luxury, and charm, encapsulating the brand's evolution.

Working closely with leading interior designer Susan Strauss Design, the new brand look and feel was artfully integrated into Bizi's luxurious Lakewood storefront. Lavender hues lit up the storefront and lent a dreamy feel, while the logo and butterfly imagery were incorporated across wall paneling and clothing racks.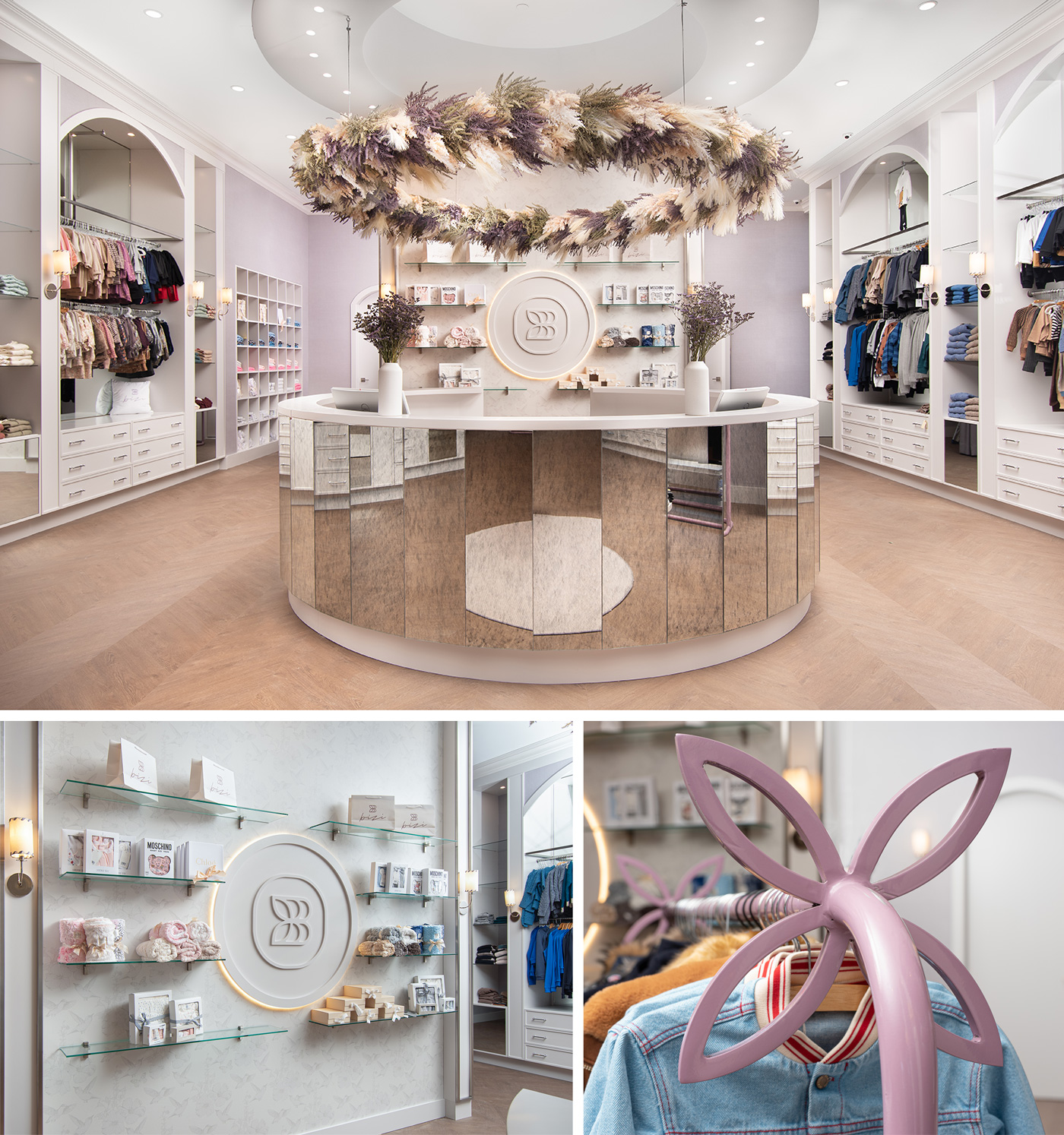 With the company branding and store aesthetic now fully in sync, we were ready to kick off the rest of the eagerly-anticipated campaign.
We landed on a central theme for the campaign that would underscore Bizi's role as a high-end service provider: styling for family photoshoots. We collaborated with three top Jewish influencers and three photographers to conduct captivating family photoshoots featuring Bizi's designs.
The remarkable photos were featured on Bizi's Instagram page and cross-promoted by the influencers and photographers involved, enabling rapid follower growth and sparking interest in this distinctive service.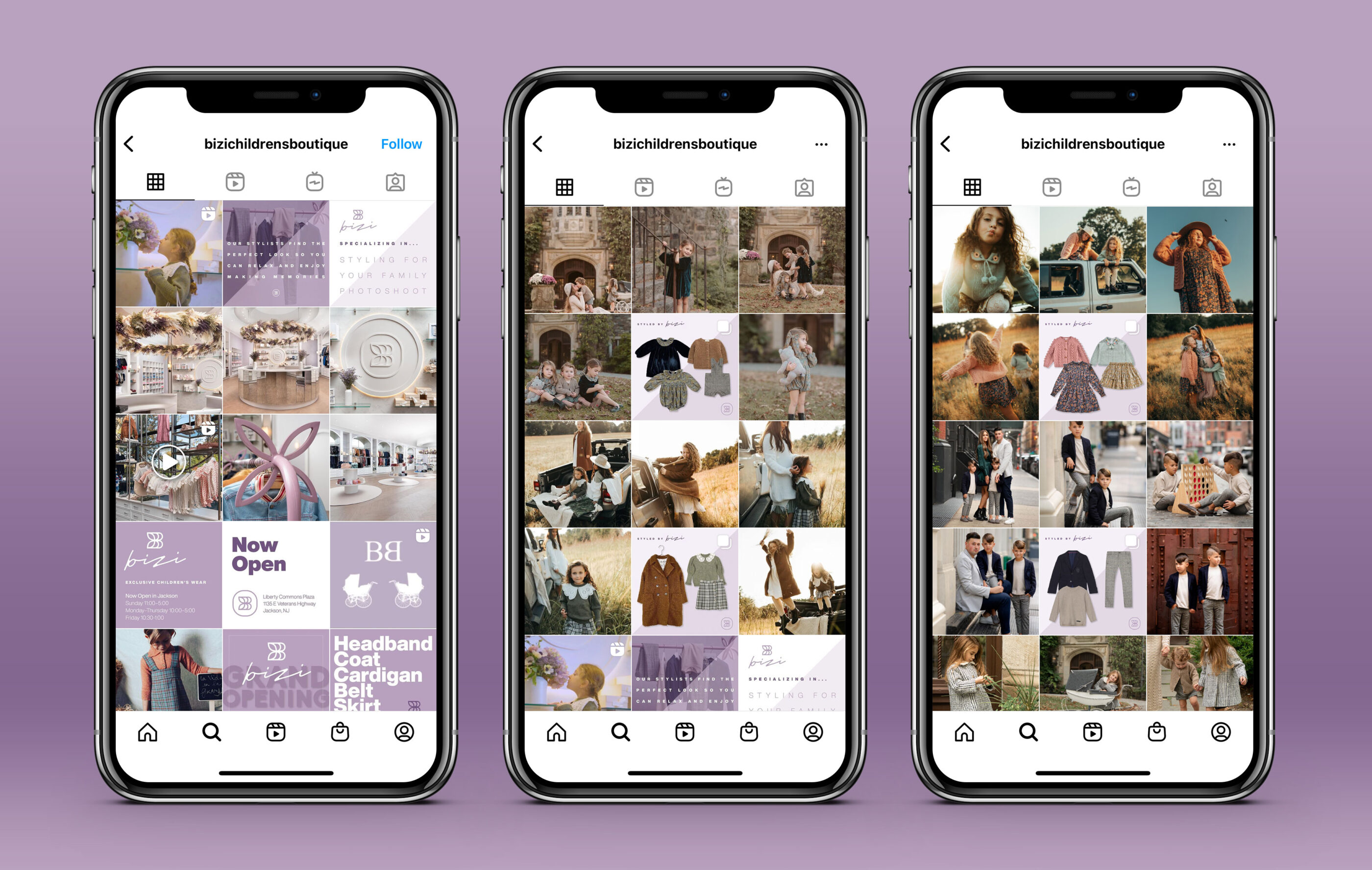 Simultaneously, we launched a print and digital campaign to announce the store's opening. The promotional materials spotlighted the breathtaking new store while underlining Bizi's unique wardrobe styling service for family photoshoots.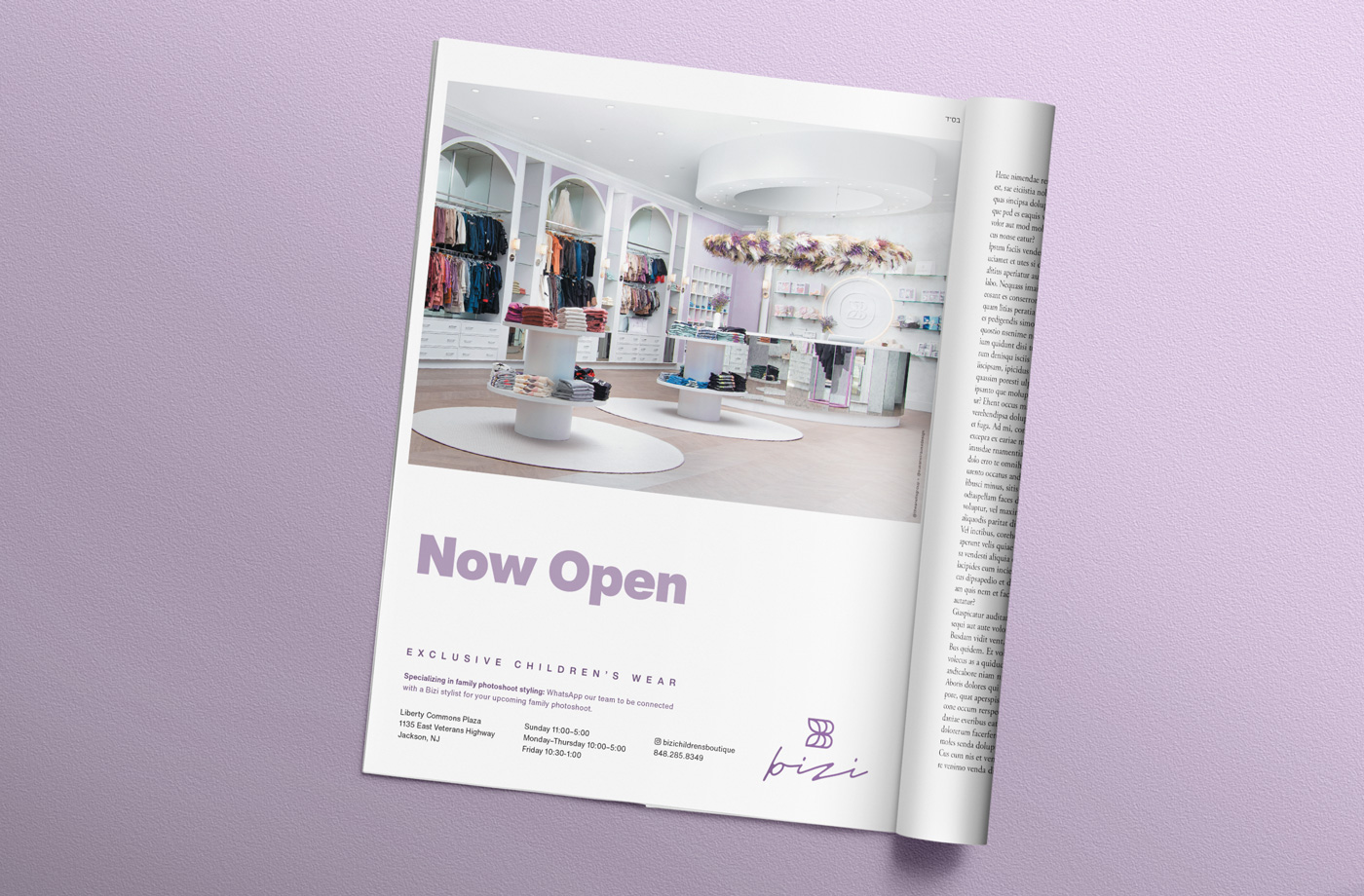 The launch campaign generated substantial foot traffic and awareness, marking a successful effort. Nevertheless, Bizi wished to sustain the momentum year-round and returned to us a few months later, seeking a fresh Spring/Summer campaign.
This time around, Bizi wanted to capture the beauty of its designs and the expertise of its stylists without relying on models and photoshoots. Anelis's inventive team crafted a sophisticated and unconventional concept that would grab attention and perpetuate Bizi's image as a premier stylist. Specifically, this campaign would feature stunning paper cutouts, stop-motion videos, and mood boards to highlight Bizi's whimsical character.
Maintaining the campaign's minimalist and two-dimensional aesthetic, we collaborated with paper artists who meticulously crafted mini origami versions of Bizi's clothing. These delightful miniature pieces were showcased through dynamic stop-motion videos and posts across various social media platforms.
These miniature copies of real Bizi designs helped us achieve the "wow" factor we were after — all without having to photograph real pieces of clothing. But, we weren't finished yet. For the second component of our campaign — known as the "Bizi Edit" — we employed visually-appealing mood boards to illustrate Bizi's flair for style. We designed print and digital content featuring these mood boards, each curated for diverse occasions and themes. The mood boards tastefully juxtaposed hand-picked Bizi pieces with fashionable items from both mainstream and Jewish brands, encapsulating Bizi's unique style narrative.



THE RESULT:


Robust Brand Recognition — On and Offline



Bizi's vision was always to stand out in a big way and position themselves as head and shoulders above the competition. The last thing the company wanted was to be just another kid's clothing store in Lakewood.
With ethereal visuals, engaging narratives, and shareable content, we created enchanting campaigns that rapidly garnered attention and awareness, and more importantly, led newly-minted fans to Bizi's doorsteps. By tapping into the power of social media and influencer marketing, we were able to pique curiosity and amass a loyal following.
Ultimately, consumers choose brands that enrich their lifestyle — and that was precisely the image we projected. Our campaigns successfully brought to life Bizi's fresh aesthetic and made it highly accessible to families by offering an exclusive styling service.
As a result of these concerted efforts, Bizi Boutique has carved a notable presence in the Lakewood community, boasting steady foot traffic and robust sales.