Kim Kushner: Breakout success for a foodie legend
Branding
Marketing
Photography
PR
Working with The Anelis Group opened up many opportunities for me in the world of Jewish publication and high-end large-scale events." — Kim Kushner
THE CHALLENGE
By the time Kim Kushner authored I ♥ Kosher , she was already an accomplished chef, author and cooking instructor.
But she had a specific challenge. "I was looking to break into a new crowd where I hadn't marketed my products previously."
Kosher foodie culture is a tightrope walk: between tradition and innovation, limited ingredients and authentic recipes, everyday cooking and frequent festivals.
Kim understood this balance and tapped our team to walk it with her to promote her cookbook in this community.
THE INSIGHT
Kim is a dynamite person. She is full of charm, humility, grace, humor and is a magnet for people's attraction.
Playing off the cookbook's title, our strategy centered around celebrating the everyday specialness embodied by her take on kosher food.
THE SOLUTION
Collaboration played a large part in creating rapid and relatable awareness for Kim's new cookbook, especially among young kosher-cooking moms.
Weeks before the launch, we began teasing the event with a series of short video interviews and behind-the-scenes footage coordinated alongside the cookbook photoshoot.
As part of the strategy to connect influential kosher food writers with her brand, Kim hosted an invitation-only brunch in her magnificent home on the Jersey Shore. Foodies were thus drawn into her close personal orbit while experiencing an element of her mystique.
Next, Kim sent her cookbook as a gift to dozens of foodies and influencers along with an "I ♥ ________" sticker. Recipients filled in their blank of what they love most and posted it to social media, tagging Kim, popularizing the phrase "I ♥ Kosher" and powering the momentum for her book release.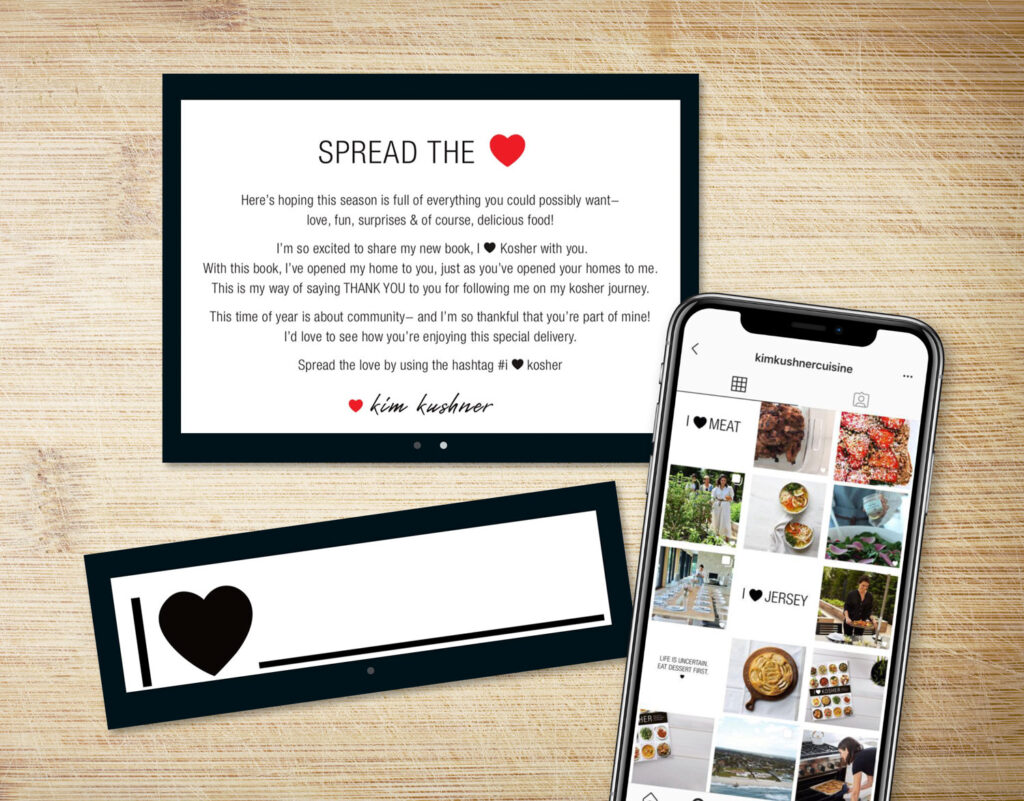 Kim also made several scheduled appearances in popular stores and restaurants.
THE RESULT
With this coordinated brand-building strategy, the first and second printing of I ♥ Kosher sold out immediately upon release.
Post-book release, the collaboration continued.
At our invitation, master blender Lior Lev Sercarz of La Boite created two exclusive spice blends to celebrate I ♥ Kosher. We arranged to have them certified OU.
Elisheva is extremely creative and her ideas are on another level when compared with other marketing groups. I really appreciated that she promoted my brand in a very powerful way while still allowing me to be true to myself." — Kim Kushner
By listening closely and advising honestly, our strategy has helped Kim sell out "I ♥ Kosher" three times to date!