BROOKLYN MRKT: When competition becomes a community
Branding
Design
Events
Marketing
PR
THE CHALLENGE
Despite providing some of the most popular and powerful programs available to Jewish women, the Ohr Naava organization struggled to raise awareness and raise funds for itself.
Why?
Because of its diversity of popular events and programs—from Avinu Malkeinu lectures in 12 cities to an equine therapy retreat for survivors of abuse—the unified engine behind them was mainly anonymous.
In early meetings, the typical non-profit playbook was considered: brochures and branded ads to raise awareness followed by a Chinese auction or concert to raise funds.
But we saw an opportunity to break the mold and achieve a true breakthrough.
THE INSIGHT
Rather than talk about Ohr Naava to people in their own homes, we set out to share the experience of women supporting one another in a positive environment.
THE SOLUTION
For the first time in the community, we gathered "competing" women-led businesses for The Great Vintage Event.
Vendors were part of a budding trend of vintage modest fashion sellers ready to grow their business and their brand awareness.
Shoppers would be excited for the first-ever expo of beautiful modest fashion and happy to pay a cover charge in support of women-led businesses.
Everyone would be helping a charity that helps women grow personally, emotionally, spiritually and financially.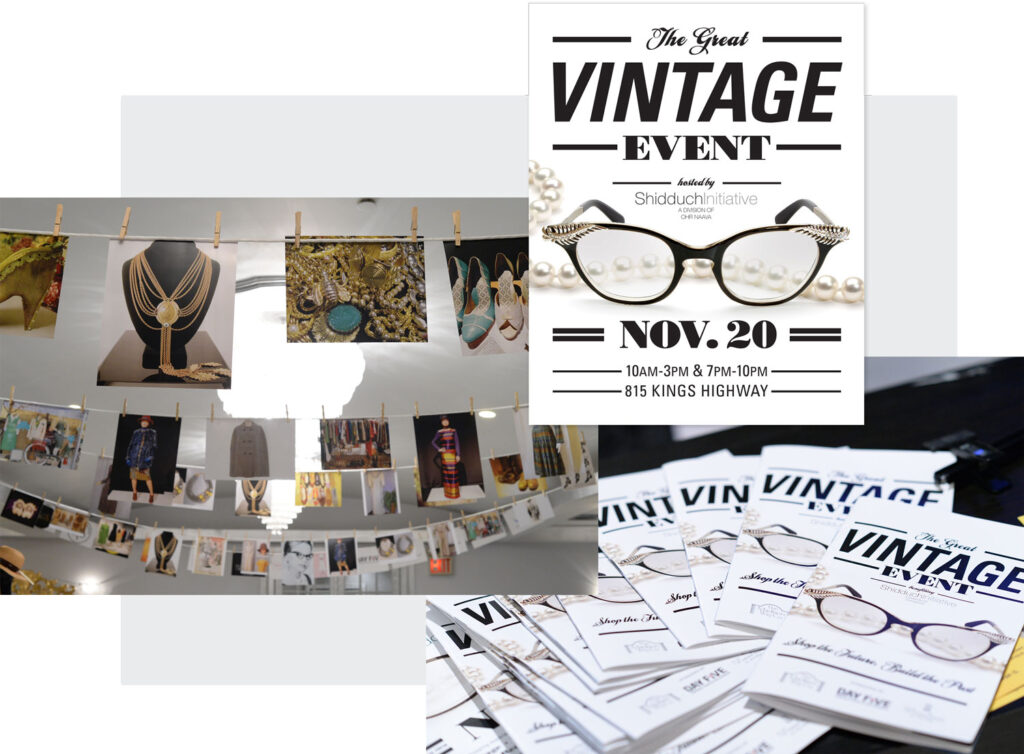 In that environment, we projected we'd be able to raise money through entrance fees and sponsorships from people who were genuinely delighted to give.
Many backers thought it was crazy to gather "competition" under one roof. We felt that bringing women together to support other women was the very best way to express what Ohr Naava achieves every day.
Vintage was just starting to trend so to see it recognized and brought to life in such a powerful and fun way was really impressive! And the message of Shop the Past, Support the Future was so perfect."— Anonymous
THE RESULT
Magic!
The Great Vintage Event was a perfect circle of women supporting women: Ohr Naava raised more than 20% of its annual budget, small businesses earned well and "competition" transformed into a new community.
If it worked for a niche market like modest vintage clothing, why not for other industries?
The Brooklyn MRKT is born!
Hosted in a chic industrial escape in the heart of Jewish Brooklyn, the wildly popular Brooklyn MRKT rocks to the beat of art, purpose and discovery.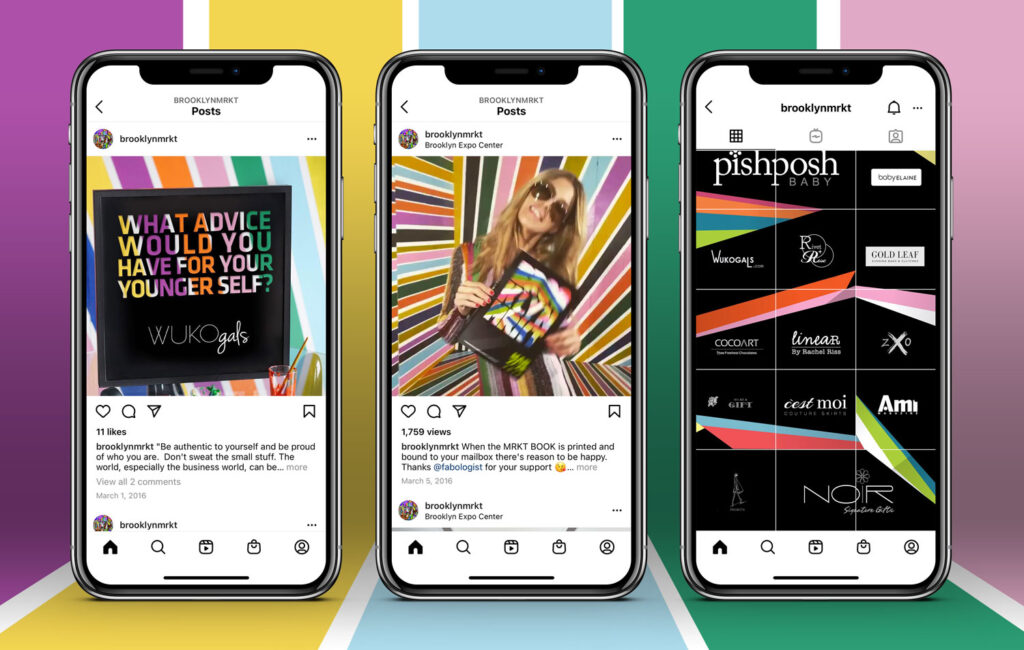 From 30 diverse shops its first year, to 60 the next, to 100+ in year three with creative collaborations exploding everywhere:
A food court featuring the newest and nowest in kosher treats
Lounges designed by Anelis client Birch, outfitted by Luxe Rentals and hosted by Ami magazine
Artist-takeovers of the elevators, shopways and outdoor plaza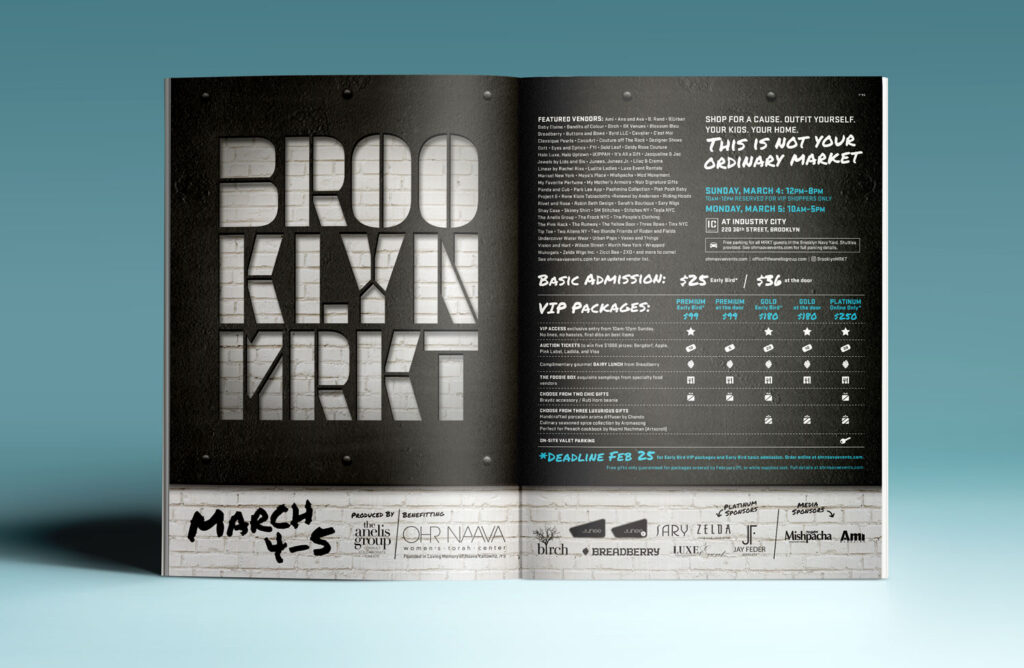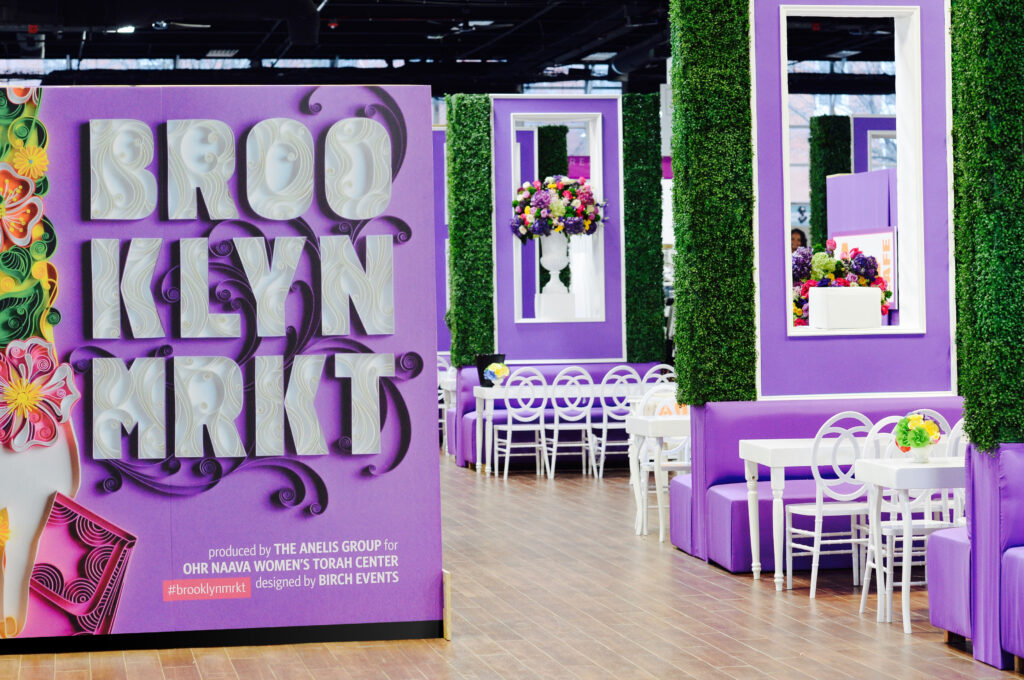 Over 4,800 women from across the range of orthodox communities now flock to the two-day Brooklyn MRKT to shop among an eclectic mix of food and fashion vendors.
Each year, interest in vendor space and corporate sponsorship grows dramatically as business owners and donors feel the full impact of connecting with this exclusive community of Jewish women.
And Ohr Naava is more than a household name. It's synonymous with the strength, support and success of the Jewish women it serves.